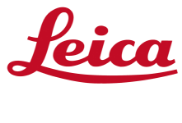 See the Hidden: Spatial Proteomics
Gaining new disease insights through a better understanding of protein subcellular localization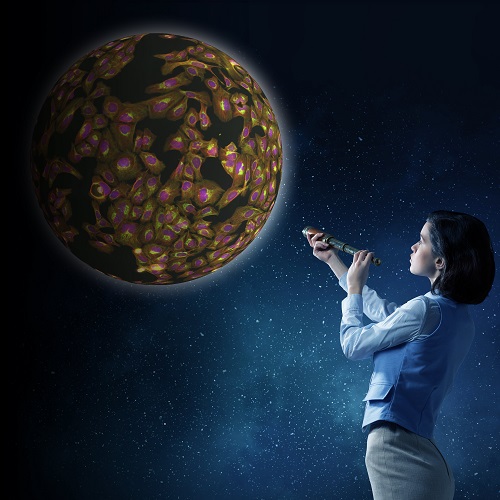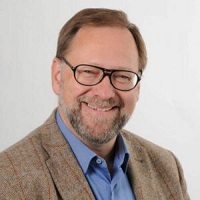 Dr. Boris Zarda
Advanced Workflow Manager, Leica Microsystems
Read Bio
Boris Zarda trained as a Microbiologist and has over 30 years of experience in multiple fluorescence microscopy techniques. He has been with Leica Microsystems for 24 years and currently manages their Advanced Workflow Specialist team. The proximity of Boris and his team to real-life science makes them ideally placed to facilitate the development of new technologies. Boris is dedicated to optimizing imaging techniques and workflows and strongly believes in knowledge sharing to improve results.
Close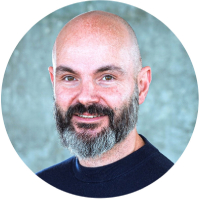 Prof. Andreas Mund
Associate Professor, Clinical Proteomics, Novo Nordisk Foundation Center for Protein Research
Read Bio
Prof. Andreas Mund is an expert in the field of clinical proteomics. As an Associate Professor at the University of Copenhagen, he is part of the team led by Prof. Matthias Mann at the Novo Nordisk Foundation Center for Protein Research. With a dual education in biotechnology engineering and protein biochemistry from the Anhalt University of Applied Sciences and University of Hamburg (Germany) respectively, Prof. Mund brings a unique skillset to his research, which focuses on understanding the molecular mechanisms of health and disease through the characterization of single cell identity and heterogeneity in tissue biobank samples. He uses cutting-edge techniques such as high parametric imaging, artificial intelligence, and ultrahigh sensitive proteomics to achieve this goal. He spearheaded the development of "Deep Visual Proteomics" - an innovative technology that allows unbiased quantification of thousands of proteins in single cells while retaining spatial context, providing new insights into the underlying mechanisms of disease.
Close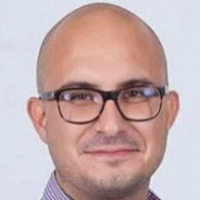 Dr. George Galea
Research Scientist, European Molecular Biology Laboratory (EMBL) Heidelberg
Read Bio
George is a researcher working in the Pepperkok team at the European Molecular Biology Laboratory (EMBL) in Heidelberg, Germany. His research focuses on understanding how the Golgi complex interacts with other organelles to coordinate various cellular processes in response to physiologically relevant cues such as DNA damage events. To better understand these processes, he applies multi-omic approaches, including high-throughput imaging, to dissect the Golgi structure organization and DNA repair mechanics.
Close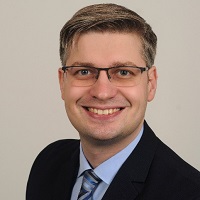 Dr. Franco Klingberg
Market Development Manager Aivia, Leica Microsystems
Read Bio
Franco Klingberg studied biotechnology (B.Sc. & M.Sc.) at the Brandenburg University of Technology. During his studies he worked on research projects in the United States and Australia. He obtained his PhD in Cell Biology from the University of Toronto. The project involved various microscopy techniques and image analysis challenges. After completion of his doctorate, Franco continued his career in a commercial role as Technical Sales Specialist for imaging and detection solutions with Thermo Fisher Scientific. In 2021, he joined Leica Microsystems supporting the launch of a novel Artificial Intelligence based software.
Close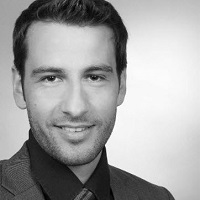 Dr. Christoph Greb
Application Scientist, Leica Microsystems
Read Bio
Christoph Greb studied cell biology at the Philipps University in Marburg. In the course of his dissertation he examined the vesicular transport of apically destined proteins in polarized epithelial cells utilizing biochemistry as well as TIRF and confocal microscopy. After his engagement for Novartis Vaccines & Diagnostics he started working for Leica Microsystems in October 2013 as a Scientific Writer, followed by positions as Workflow Manager, Application Manager and today, Application Scientist.
Close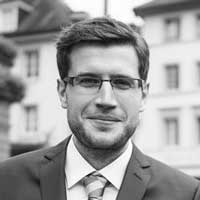 Dr. Falco Krüger
Manager Advanced Workflow Specialist, Leica Microsystems
Read Bio
Falco joined Leica Microsystems in 2018, focusing on advanced widefield microscopy, and now manages a team of Advanced Workflow Specialists. He obtained his PhD in Plant Cell Biology in the group of Professor Karin Schumacher at the Centre for Organismal Studies, Heidelberg. Since the launch of the THUNDER widefield imaging systems in 2019, Falco has hosted workshops demonstrating the power of THUNDER to the scientific community. More recently, he has also excelled at training researchers remotely.
Close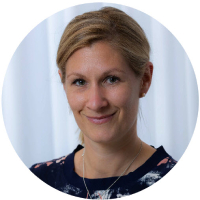 Dr. Charlotte Stadler
Co-Director Spatial and Single Cell Biology Platform and Head of Spatial Proteomics, SciLifeLab
Read Bio
Charlotte Stadler is a co-director of the Spatial Biology platform at the Science for Life Laboratory. She is also Head of the National Spatial Proteomics facility. Charlotte received her PhD in 2012 within the framework of the Human Protein Atlas (HPA) project under Prof. Emma Lundberg and Prof. Mathias Uhlén, establishing many of the protocols and pipelines for image-based subcellular protein profiling that are used in the Human Protein Cell Atlas. Her team works mainly with highly multiplexed imaging using sequential immunofluorescence and barcoded antibodies using cutting-edge instruments.
Close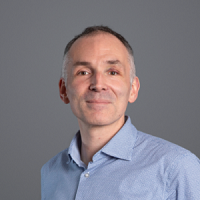 Dr. David Pointu
Senior Application Manager, Leica Microsystems
Read Bio
David Pointu has been application manager for Cell DIVE and translational research at Leica Microsystems since 2021 and has broad experience in light microscopy, including various aspects of cell and tissue imaging and analysis. After studying physical chemistry at the University of Strasbourg, he completed his PhD in 2002, followed by a postdoctoral fellowship at the Institut Curie. In 2004 he moved into industry, and has worked as an application specialist in high-end microscopy at several companies, including GE Healthcare.
Close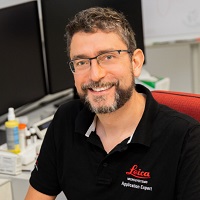 Dr. Jens Peter Gabriel
Advanced Workflow Specialist, Leica Microsystems
Read Bio
Jens Peter Gabriel obtained his PhD in Biology (Neurobiology) from the University of Cologne. He continued to work in this field as a postdoctoral researcher at the Max-Planck-Institute for Medical Research in Heidelberg/Germany and the Karolinska Institute in Stockholm/Sweden. His main interests were neuronal networks generating behavior, which he studied in zebrafish using methods like electrophysiology, multi-photon calcium imaging, and confocal microscopy. His passion for biological imaging was the reason why Jens joined Leica Microsystems in 2009. As Advanced Workflow Specialist he is now contributing to scientific progress in different ways: by helping researchers identify which microscope system best fits their requirements, and by supporting them through trainings and application advice.
Close
Join us for this next virtual edition of our See the Hidden workshop series, which will continue to explore the topic of Spatial Biology – this time looking at the spatial localization of proteins.
Together with leading experts, we will examine how a deeper understanding of protein subcellular localization, using advanced microscopy techniques, can shed new insights into diseases such as metabolic disorders and cancer.
In this workshop, you will discover:
multiplexed imaging methods for spatial proteomics of cells and tissues
Deep Visual Proteomics (DVP) for spatial molecular profiling in tissues at single cell resolution
novel golgi-nuclear interactions identified following analysis of genome-scale localization data from the Human Protein Atlas
advanced microscopy, laser microdissection, and AI-based techniques for studying protein subcellular localization
Through a series of scientific talks, our guest speakers from across Europe will present their research and discuss how specialized microscopy approaches are delivering unique insights into this exciting field. The program will also feature live panel discussions and microscopy showcases that focus on four specific areas in microscopy:
Laser microdissection
Multicolor microscopy (multiplexing)
AI-based image analysis
Confocal microscopy
Don't miss this exciting event or the chance to ask your questions to the experts and take part in interactive polls to share your experiences and views on Spatial Proteomics.
As a NEW addition to our See the Hidden workshop series in 2023, we are also delighted to offer you the opportunity to see some of the microscopy techniques you will hear about during this event, in more depth, in a short virtual follow-up workshop.
Make sure you register to find out more!